Rabgatse (Duetsidrak)
Category: Temple Address Trongsa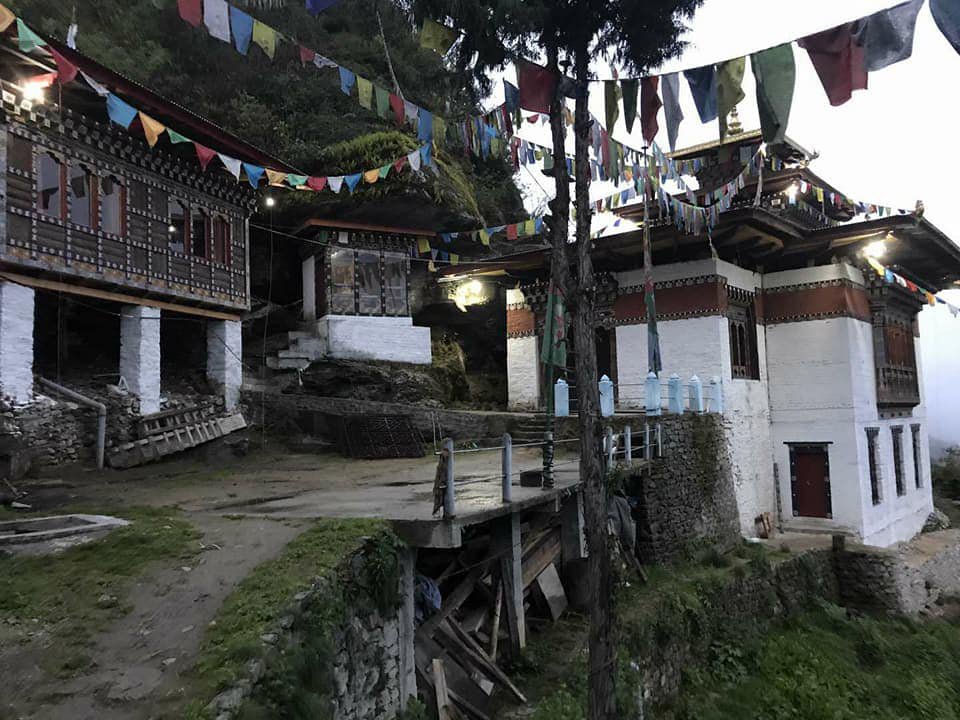 The sacred place of Rabgatse was blessed by Guru Rinpoche; there is a temple at this place which was founded by Jetsun Tsheltrum Palbar. There are many sacred places for viewing on the left side of this temple. First of all ,there is a small cave above the path before reaching Jachungdra from the temple ; the locals call it Thro Norbu . According to 71 years old Agay Sigyel every year ,on the
fourth day of the six Bhutanese month, Blessed water flows from the cave. The cliff near the Thro Norbu cave is called Jachungdra . On other side of that cliff you can see the hand-print ,a footprint and a body of Guru Rinpoche.
Then there is a wonderful blessed water source to have been revealed by a Garuda bird and ,below it ,is another Blessed water source revealed by a horse. Then on a rock face in the cliff there is a footprint of the mount of Palden Lhamo (Mahakali ) deity. Nearby it is the third blessed water source revealed by tiger. These three blessed water source are together refereed to as Drubchu Gongwog Suum ,meaning "The Three Blessed Water Sources - the Upper ,the Middle and the Lower."
Then after some distance down the left side of Jachungdra Cliff is a white cliff resembling the teeth of a horse ; on its can be found a self-arisen image of Jetsun Milarepa and also there are several self-arisen letters including the Letter HUM written in landza scripts. In surrounding area of Duetsidrak (Rabgatse ) there is said to be house in the form of an uncontrived self-existing and spontaneously present cave equal to that of the level of Thirteen Grounds ( sa bcu gsum).
To get this sacred place, you have to walk on the horse track up from a place near the village of Choegang located above the highway from Chazam to Trongsa. You can also come to this place from Wangdue Goenpa. The sacred place is situated at 3000 metres above sea level.
Reviews
No review available