Sinphu Guru Lhakhang
Build On: 1950 Category: Temple Address Trongsa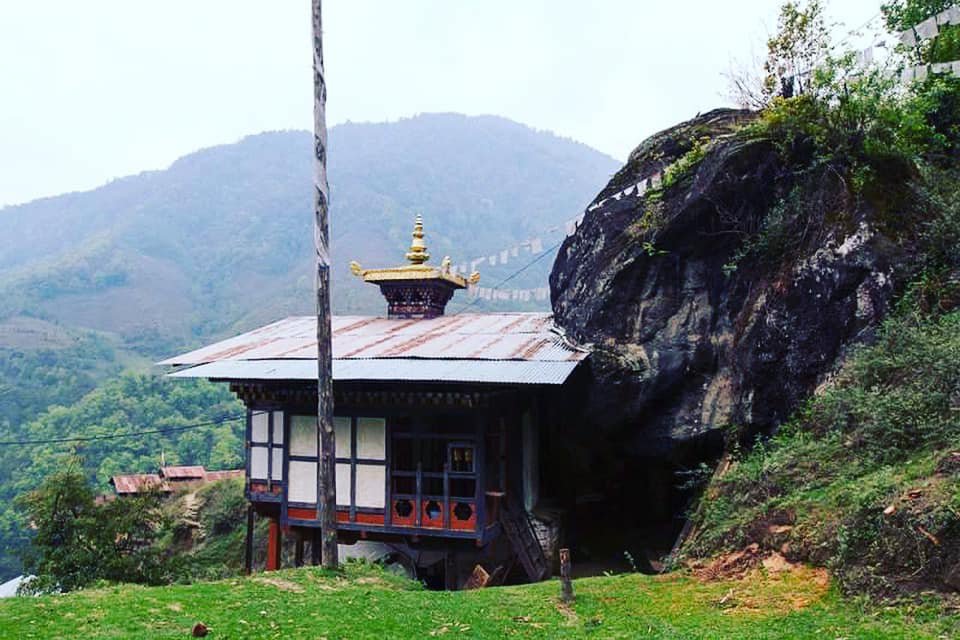 The temple, a small one-story stone and wooden house, is located at the top of Sinphu village. The village can be reached from Trongsa Bjizam bridge, which has a road check point, by a one and a half hour drive on a farm road.
Sinphu Guru Lhakhang was founded by Palbar, the Chamberlain (Zimpoen) of His Majesty, the Second King Jigme Wangchuck in 1950. At that time, there was only one main temple with a small window (rabsel). A larger window and a
golden pinnacle were added to the temple with the help of Karma, a relative of the Sinphu Guru Lhakhang caretaker, Phurpa, and devoted villagers in 1997-1998.
The temple and site have historical connections to Guru Rinpoche, evidenced by rocks and oral history. On the right side of the temple, we can see clearly on a big rock the footprint of Guru Rinpoche. An hour's walk from the temple on the way to Sinphu primary school, one can also see the hoof print of Guru Rinpoche's horse on a stone. According to local history, there was a small cave where Guru Rinpoche used to meditate, and this cave is now inside the actual temple. One day, an old woman on her way to fetch water saw Guru Rinpoche as though he were sitting in the cave. The next moment, however, she found a butter lamp there instead. Then, after carefully inspecting the cave, she found the body print of Guru and his two consorts (Guru Tsokhor sum): left Mandarava, middle Guru Rinpoche and right Yeshe Tsogyel. The site was thereby recognized as a sacred place and the temple was built around the cave.
Source : Bhutan cultural Atlas
Reviews
No review available