Jomtshang Lhakhang
Build On: 1925 Category: Temple Address Trashigang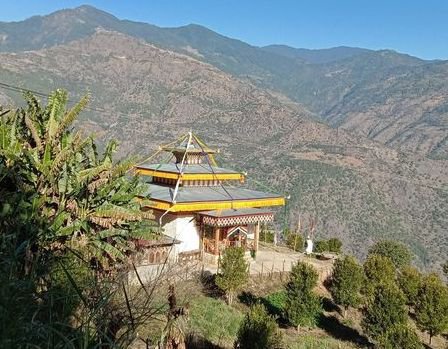 The Lhakhang was built by Lama Sambha and his younger brother Rinchen in the Wood Female Ox year 1925. It was private Temple owned by Rinchen's descendants for many decades, until later on it was handed over to the people of Jomtshang, on the aggrement that community can hire any ritual propriety from Lhakhang, and in return they need to change roof of the Lhakhang every year.
The marvellous fact about the Lhakhang is that, people can't steal any properties from there. If people take and never return within three days, that person become insane and gradually stop living. People believe that every Lhakhang property is within the care of Mahakali (Pelden Lhamo), who is the main gurdian deity.
In due course, there was a decline of gomchens in the village, and it was difficult to have care taker to do daily offerings. So, the community of Jomtshang unanimously decided, in the hope of getting Lama and Kyenyer (Care taker), offered Lhakhang to Yonphula Rinpoche, Lama Jigme Tenzin. Since then Yonphula Rinpoche has been blessings to the people by sending Lamas and Kyeners to Jomtshang Lhakhang from Yonphula Lhakhang, for the benefit of the people of Jomtshang and sentient beings in general.
However, there was a strong earthquake in 2009, which caused great damage to the Temple. Despite any idea, people couldn't renovate the Lhakhang, because it was badly demaged beyond repair. Therefore, in 2019, rebuilding of the Lhakhang has begun on the same place with the help of Government and sponsors. The main relics are the statues of Buddha of Infinite light (Sangay Yoepamay), Guru Padmasambhava (Guru Rinpoche), Buddha of Compasion (Chenrezig), Mahakali (Pelden Lhamo), religious texts and magnificent wall paintings.
Reviews
No review available
You may also like in Trashigang