Chezhi Goemba
Build On: 15th century Category: Temple Address Thimphu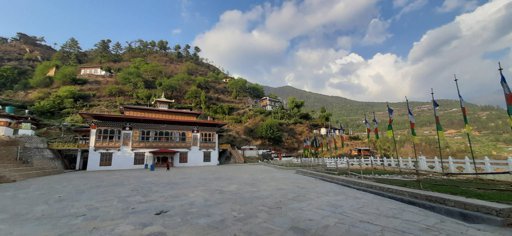 In the fifteenth century, Drogoen Thinley Rabyang of the Sakya dynasty constructed Che Goen Samtenling Goenzin Dratsang. According to Drogoen Thinley Rabyang, he saw Tara (the goddess of longevity and wealth) embodied in the Chezhi Goenba mountain and constructed a temple on her heart.
The "Dhung" (Trumpet), which was retrieved from Dhungchu Menchu in Dagana, is the temple's most important artefact. The location is a sacred Tara site, and the Tara mantra is recited in the temple each year during the fourth lunar month. Samye Gyap and Zhuden Gyap were the two kings. Zhuden Gyap was banished from the temple because it was thought that he was a god of terror. Every year, one yak is slain, and the heart is transported to the deity's chamber for sacrifice.
In order to move to a better location in Jagar shar (east India), Zhuden Gyap was asked to do so by His Holiness the Je Khenpo in a Kasho (Decree) released in 2001. It is also thought that the Zhuden Gyap had accepted Kasho's offer and left the area. All of Zhuden Gyap's possessions, including his statue, were then packed up and dumped into the Wanchu River. According to a legend about chezhi Lam mi Tashi, Tashi tamed the Evil Lam.
Reviews
No review available