Dodeydrak Monastery
Build On: 12 century Category: Temple Address Thimphu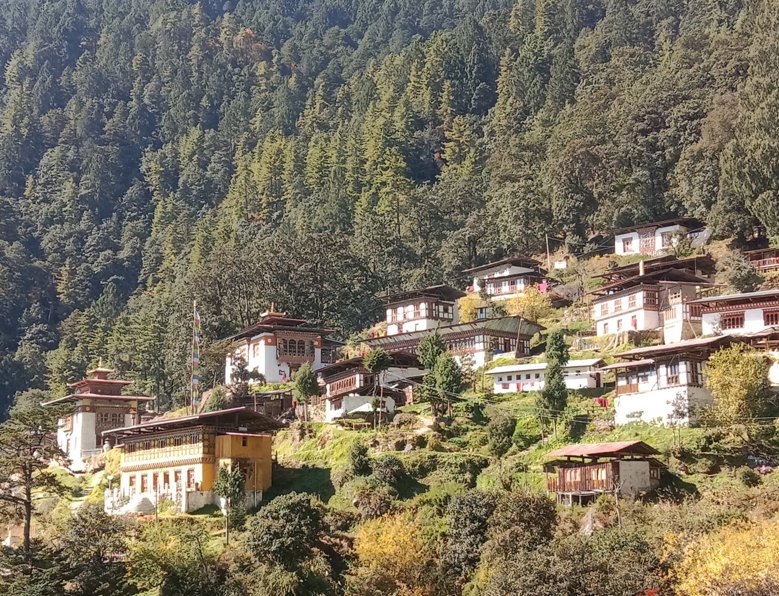 Dodeydrak Goenpa is a monastery in Thimphu which was prophesied by the 13th Chief Abbot Yonten Thaye the reincarnation of Channa Dorji (The god of power and energy).
The Buddhist spiritual Text book has been uncovered from the cave when the cave has been broken when the Text book came out of the big cave. Hence the name Dodeydrak.
Overlooking the Thimphu city, the Monastery still remains remotely located with not many visitors and hardly any tourists. It is a 2 hours 30 minutes hike uphill and while this can be enjoyed as a day excursion, however it is recommended you stay at least one night at the Monastery Guesthouse. The hike is on an ancient trail with breathtaking view of multi-colored rhododendrons painting the Chirpine forest in spring and while other times you will see a variety of species of birds and butterflies as you walk along the pine leaves-carpeted trail. Spectacular views of TashiChho Dzong, Wangdi Tze Dzong, and Dechen Phodrang will present itself as you climb further with Thimphu city peeping in occasionally from among the trees.
The 12th century Monastery is a complex of small temples that serve as a Buddhist Institute for learning and the resident students are all monks - young and old. You will have the opportunity to interact with the monks and their teachers, exchange life stories, learn about Buddhism and meditation and watch them as they go about their daily life. You can also sit in with them in the temples during their evening and morning prayers, or during any rituals and ceremonies that are conducted every now and then. It is also a humbling experience to share a meal with the monks at their dining hall. If you are visiting on a weekend, you can also play a game of football/soccer with the monks.
There is a cave nearby from where holy spring water drips and drinking this water, locals believe, washes away sins and promotes good health and prosperity. The Monastery has a guesthouse that welcomes all, otherwise, camping a little further away from the monastery provides mesmerizing view of the valley with beautiful sunrise and sunsets.
The hike and overnight stay at the Monastery is categorized under the remote and ancient hidden trails and an off the beaten path experience.
Reviews