Samarzinkha Drakna Guru Ney
Build On: 8th century Category: Temple Address Thimphu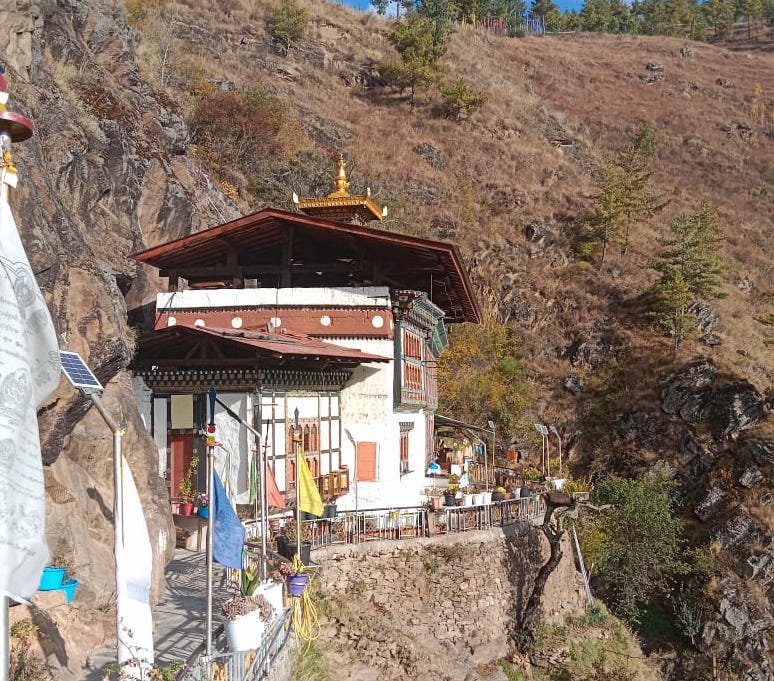 The holy site at Samarzingkha in Thimphu is believed to have been blessed by Guru Rinpoche himself, with his presence, in the 8th century. As destined by the Dakinis, the holy site was first revealed by His Eminence Gyalsey Tenzin Rabgay of Tango Choeje on the auspicious morning of the 25th day of fifth month of the Tiger year, corresponding to the 11th rabjung. According to the sacred texts of the Dakinis', the site is blessed with innumerable dharma and wealth treasures, medicinal waters, holy waters etc. However, today we can only see the cave where Guru Rinpoche, in his wrathful form, subdued the evil forces, cave of the Dakinis; the secret cave of Yeshey Khando, self-arisen imprint of Guru Rinpoche on the rock; and also, the self-arisen imprint on the rock of Guru Drakmar holding his nine-pointed Vajra. In addition, devotees can also seek blessings from the self-arisen tshebum (long life vase), medicinal water, the footprint of Tachog Balaha and many other sacred treasures.
The main statue of Guru Rinpoche in the temple is also considered to be very sacred. It was built as prophesized by Yeshey Khando to Gyalsey Tenzin Rabgay. It is believed that while the Guru statue was being built, Guru Rinpoche himself appeared as a lay monk carrying a head. He is believed to have installed the head on the statue and magically disappeared like a rainbow. When the sculptor attempted to rectify the placement of the head, the head is supposed to have spoken and this is well documented both in written records as well as oral history passed on for generations. For this reason, many devotees believe the statue to be wish- fulfilling
As recently as 2018 coinciding with the Birth Anniversary of Guru Rinpoche a self arisen image of all routine daily and monthly prayers and marking all important occasions with due respect and reverence, for peace and happiness in the world in general and specifically for the good health and long life of Their Majesties and the Gyalsey and for Their noble activities to benefit the people of Bhutan and the world.
Reviews
No review available