Yakgang lhakhang
Build On: 16th century Category: Temple Address Mongar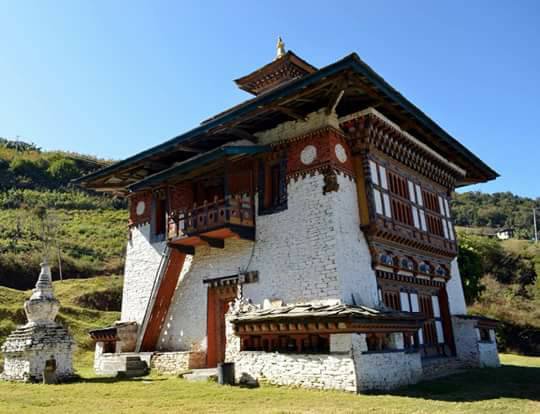 A very sacred Yakgang Sanga Choling Lhakhang,
located in a village on the outskirts of Mongar, was built in the 16th century by Sangdag, the youngest son of Pema Lingpa, a famous Terton.
It is a private Monastery and taken care by the family lineage of Terton Pema Lingpa (Yagang Choeji). Happy to meet the family lineage (see photo) woman of Terton Pema Lingpa and her husband Lopen Tsampa (he is not in the image).
This temple is renowned for its collection of religious treasures, masks, musical instruments, armour, ancient weapons, and xylograph blocks used for printing prayer flags and texts.
The ground floor houses three Buddha's (past, present and future). Guru Rinpoche, Chenrizig, Terton Pema Lingpa, and Gyapo Lhashang. The caretaker Tsampa explains that if family required a specific child, boy or a girl they come to the monastery and pray to Gyalpo Lhasang who do answers the prayer. So friends please take note of it.
Above the main statues there are series of stupas. On one corner the walking stick of Terton Pema Lingpa was kept. We received blessing from it and got small cloth relic from it. On the wall beautiful painting of Guru Rinpoche's 11 deeds are seen. Too beautiful.
On the first floor, we saw statue of Kuentuzangpo, Tandin and other statues.
The monastery is severely affected by earthquake and required immediate restoration. I saw lots of cracks. Any major earthquake can ruin this monastery completely. Needed immediate attention.
Than to next house, where there is also a lhakhang inside. The main Ters, the holy relics of Yagang were housed there in safe locker.
It is not allowed to enter as the display of holy relics is once in a year that is on 10th Day of Fifth Bhutanese month coinciding with birth anniversary of Guru Rinpoche.
The following sacred holy relics:
1. Gautama Buddha discovered by Terton Pema Lingpa in Mebartso, Bumthang (It is said that Tertoen Pema Lingpa came out from Me-Bar tso with a wax casket and holding a butter lamp in his other hand. One of the spectators, the Chokor Dep (Local King of Bumthang) insisted the tertoen to open the casket and on his reluctance, the Chokor Dep struck the relic casket with his sword. On hitting with the sword, it is said that three statue of Buddha flew away from the casket. One of these statues is in Jakar Dzong, the other in Dongkola Goenpa and the last one is residing in Yakgang Sanga Choeling Goenpa. The other two statues are taken care and everyone knows its origin and importance, but the one in Yakgang Lhakhang is not yet known to many parts of the country. We must know and get blessing from it as this statue has the mark of sword proving the most authentic one.
2. Guru Rinpoche 's spectrum
3. Three long jaws of Tacho Balab, horse of Guru Rinpoche.
4. Munjushri ( Jamphel Yang Ter
7. White couch Ter (by blowing this conch can stop hailstorm immediately)
8. Ringsel of Ashi Nagsel
9. Skull of King of Naga Batshota
10. Phurba made by Terton Pema Lingpa
11. Baking pan made by Terton Pema Lingpa ( it is believed that eating of baked cake from this pan can liberate one from lower realm.
And many more.
The Lhakhang organizes an annual three-day tshechu or ritual and Cham dance festival on the 8th, 9th and 10th of the fifth month of the Bhutanese lunar calendar every year. This festival is one of the oldest held in eastern Bhutan.
The monastery is very sacred that carry important history. The monastery required immediate restoration as it was severely affected by earthquake. Since it is private monastery it did not receive any funding from the government so far.
We request our friends to donate small amount for restoration of this great sacred monastery for our future children.
Source:
Mongar Dzongkhag

Phub Dorji Wang FB
Reviews
No review available
You may also like in Mongar