Nalanda Buddhist Institute
Build On: 10 century Category: Temple Address Punakha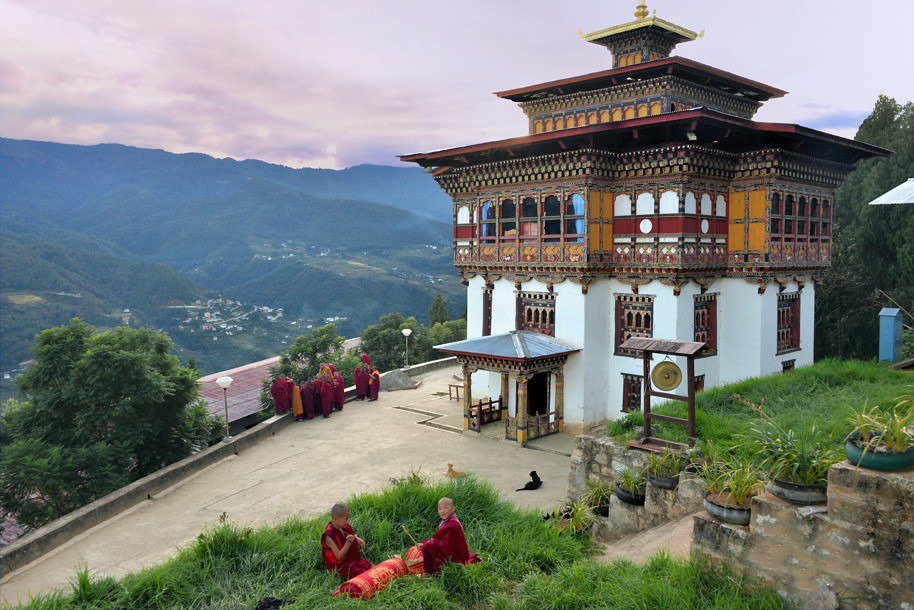 Nalanda Buddhist Institute (NBI), also locally known as Daley Goenpa or Dalida, a Buddhist monastic school (shedra). The shedra is situated in the western part of the Punakha District (Dzongkhag) in the territory of Bhutan. It is located below Talo Monastery and above Walakha. It is about a 25 minutes drive from the main highway to Punakha, before reaching Kuruthang from the Metsina crossroads. Nalanda Buddhist Institute can be seen from Dochu La pass and from Thinleygang on the main East-West highway. The name Nalanda means 'insatiable giving'.
In 1757, the 9th Je Khenpo, Shakya Rinchen, believed to be a reincarnation of Rechung Dorje Drakpa, founded the Nalanda Monastery in Punakha. Shakya Rinchen Rinpoche who is also recognized as Gyalwang Shakya Rinchen Rinpoche was from Sha Rueb Samchokha in the Wangdue Phodrang Dzongkhag (district). Rechunga was one of two extraordinary followers of Milarepa in the Kagyu Buddhist family. He was recognized as the "moon-like" follower of Milarepa and traveled to India to bring back thoughtful teachings to Tibet. These essential teachings were presented to Milarepa who immersed them into the Kagyu family. At the time when this monastery was built, the ancient Nalanda University in India was a very sacred place.
The original Nalanda University is located in what was known as Magadha that is at the present near Patna, India. As a way of accepting the people's longing to visit Nalanda, Gyalwang Shakya Rinchen Rinpoche built this monastery in Bhutan and named it after the Nalanda University in India. It is supposed that the power of the Nalanda Monastery in Bhutan is not dissimilar than that of Nalanda University in India. While building the original temple of Nalanda in Bhutan, Gyalwang Shakya Rinchen Rinpoche saw eight men from India in a small valley next to the building place.
He understood that these eight Indians ought to be the eight intellectuals (pandits) of the original Nalanda University in India. When he set off to locate them to see if this was a fact, they had vanished. The vanishing of the Indians was taken as an affirmation that these without a doubt were the great eight intellectuals (pandits) of Nalanda University.
Reviews
No review available
You may also like in Punakha