Talo Sanga Choling Monastery
Build On: 1767 Category: Temple Address Punakha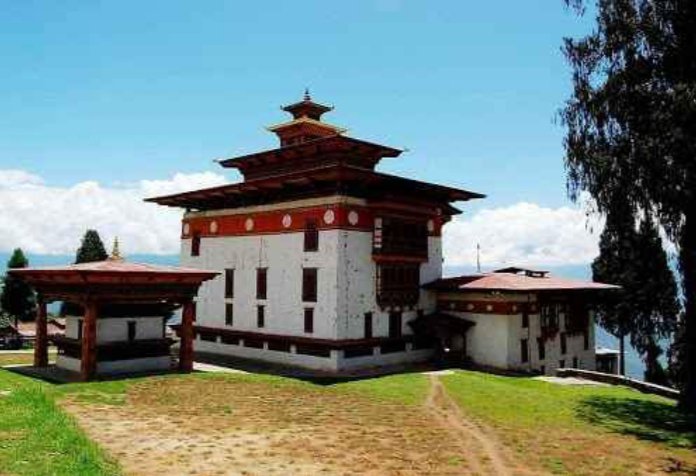 Talo Sanga Choling Monastery is one of the prominent monasteries in the country as the monastery is directly connected to the mind manifestation of Zhabdrung Ngawang Namgyel. The monastery is commonly known as Talo Geompa.
Perched at an elevation of 2,800 m above the peaceful community called Talo, Talo Sangacholing Monastery was founded in 1767 by Chogtul Jigme Singye (1742-1789), the fourth reincarnation of Lam Thripa (Gyalse Tenzin Rabgye, which literally means the holder of the throne), a title given to Gyalse Tenzin Rabgye (1638-1696) as the Gyaltsap (regent) chosen by Zhabdrung Ngawang Namgyel. It is located above Punakha valley around 16 Km drive from Kuruthang town.
Jigme Drapa (1791-1830), the third mind reincarnation of Zhabdrung Ngawang Namgyel renovated the area and built a temple. He also installed statues that he brought from Samye Monastery in Tibet.
After the completion of Talo Monastery it has served as the residence of the successive mind reincarnation of Zhabdrung Ngawang Namgyel. Thereafter the temple was renovated by several reincarnations of Zhabdrung including Zhabdrung Jigme Norbu, the fourth mind incarnation, Zhabdrung Jigme Chogyel, the fifth mind incarnation.
The Kundung of the 3rd and 5th mind reincarnation of Zhabdrung Ngawang Namgyel was housed there. I received blessing from the walking sticks of the 3rd and 5th Zhabdrung. On request, my travelling Guru Rinpoche statue was connected to all the Nagtens of Talo Monastery.
Further inside, there is Tshapami Statue. Below the statue on each side there is Namsey Tsherim that is sealed from public display. Like in all other monastery of Bhutan, the interior and exterior of Talo Monastery show the amazing skill of Bhutanese artist while reflecting the importance of culture and religion in Bhutan. All inner walls are painted with Zhabdrung Ngawang Namgyal's images substituting 10,000 Zhabdrung statues as there are no place to place the Statues.
Talo Sanga Choling also house many lhakhangs of which Neten Chudru (Sixteen Arhats) lhakhang is one of them. According to the monk caretaker, the statues and relics at Talo monastery are so many and sacred that it can easily fill up Punakha Dzong. In fact the monastery was constructed to store sacred relics to fill Punakha Dzong in case of un-eventualities.
Reviews
No review available
You may also like in Punakha