Ngoedrubchu Lhakhang
Category: Temple Address Punakha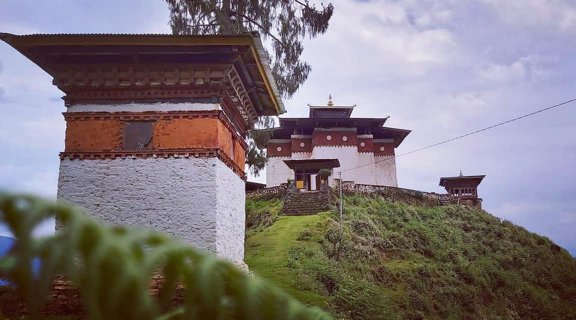 It is located at 2,500 meters above sea level, the new lhakhang lies on a hilltop overlooking the Phochu valley in one of the remote villages in the dzongkhag.
Karma Tshering, the former principal of Sewala Shedra , in his paper title Chokhor Dorjeden-ge Throjod Leg she Tonkai Duzang ( The Elaborate and Fine Explanation of the Good Autumn Season of Chokhor Dorjedhen) states that this temple containing Buddha Maitreya as its main inner
object of workship was built by Jamgon Ngawang Gyeltshen, born in 1652 (twelfth Rabjung ), belonged to the family lineage of Gon Amorimu.
In Jamgon Monthai Threngwa ,the continuation of Lho'i Chojung History ,it is mentioned that temple was originally founded by a Nyingmapa lama; but later it was entrusted to Ngawang Pekar ,the younger brother of Jamgon Ngawang Gyeltshen and following that, it became part of the monastic community of Drukpa Kagyu. On a hillock about ten minutes' walk up from this temple, there is a Practice House of Je Pema Zangpo ,twenty seventh lineage , born in 1779 ,corresponding to the Female Earth Year (thirteen Rabjung ). Nearby the practice house ,at the base of a crag ,one can see a Blessed water source of Je Pema Zangpo.
Although little is known about the history of the lhakhang, locals say it is over 400 years old.
The people of Chubu Gewog in Punakha are happy with the completion of the newly reconstructed Ngoedrubchu Lhakhang in Punakha. The consecration ceremony of the new lhakhang was presided over by the Dorji Lopen of the Central Monastic Body on 28 February 2019.
There are around 35 households near the lhakhang. However, hundreds of people across the country visit our lhakhang. We are extremely happy and thankful with the restoration of the lhakhang," Damchoe Thinley, one of the locals, said.
The new structures of the Lhakhang such as walls, floors and roofs were renovated and reconstructed. The relics and the statues were kept as it is.
The gewog officials say lack of budget has delayed the reconstruction works
"The lhakhang was severely damaged in one of the earthquakes. After the reconstruction, we now have a stronger and bigger lhakhang. We are thankful for the support from the government," Chubu Gup Sonam Tobgay said.
The reconstruction works took two years to complete. The new Lhakhang was constructed at the cost of over Nu 8 M, of which Nu 5 M was from the dzongkhag and rest from the contributions
If one walks down from Samdingkha , it takes more than three hours to reach this temple and if one walks down from Sewala it takes about two and half hours.
Reviews
No review available
You may also like in Punakha