Suspension Bridge - Punakha
Build On: . Category: Bridge Address Punakha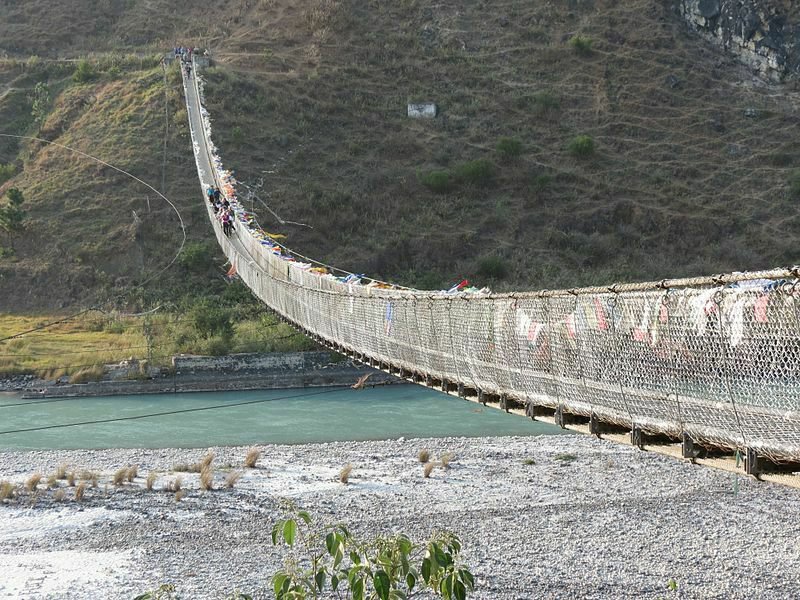 Linking Punakha Dzong to Shengana, Samdingkha, and Wangkha villages across the Tsang Chu River (aka Po Chu), this is one of the longest suspension bridges in Bhutan. Yet, for a roughly 520-foot-long suspension bridge, it's surprisingly stable. The bridge offers a spectacular view of the river and valley, and the east bank is a good starting point for multi-day treks in the nearby mountains.
Traditional Bhutanese bridges make use of cantilevers, beams anchored to one bank and projecting horizontally to reach the other bank. This simple but effective structure can be upgraded by using interlocking beams.
A prime example of this is the bridge in front of Punakha Dzong. Unlike these bridges, the one in Punakha relies on cables anchored to massive cement blocks on the banks. Being suspended, the bridge does have some inbuilt flexibility that makes it swing in strong winds, but not as much as you may expect. This is due to the stabilizing cables that taper off on both ends of the bridge. The deck is made of solid planks of wood nested in the deck truss.
Reference: https://www.atlasobscura.com/places/punakha-suspension-bridge
Reviews
No review available
You may also like in Punakha